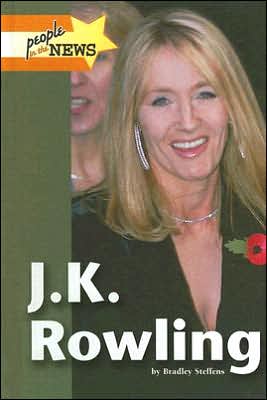 Personalized and Signed
by the Author
US $25.99
List Price:
32.45
You save 20%!
J.K. Rowling
From her birth in the town of Yate (not, as widely reported, in the village of Chipping Sodbury) to her emergence as the best-selling children's author of all time, J.K. Rowling has led a life nearly as improbable as that of her famous character, Harry Potter. Winner of the 2007 San Diego Book Award for Best Young Adult & Children's Nonfiction and the Theodor S. Geisel Award for Best Book by a San Diego County author, this book tells the fascinating story of the woman behind the most beloved novels of our time.

Critical praise from School Library Journal: At last, a biography that contains some real information about the popular author. A three-page introduction focuses on the success and impact of the "Harry Potter" books. Steffens then turns his attention to his subject's early life, education, and first few jobs. The next chapter provides background on the plot, setting, and characters found in her famous series, as well as the inspiration and some of the thought processes that went into their development. The third chapter continues with Rowling's life. The author then focuses on her writing and, of course, on her tremendous commercial success. The book concludes with a discussion of the movie and speculates on what Rowling will do after the "Harry Potter" series is completed.—Kathleen Simonetta, Indian Trails Public Library District, Wheeling, IL

Bradley Steffens is happy to sign the book at no additonal charge. To receive a one-of-a-kind first edition, simply email the author at

[email protected]

after placing your order and provide the name of the person to whom you want the book inscribed and any other information, such as special occasion or particular interest, to be included in the inscription.
Copyright © 2008 by Bradley Steffens

Home | Critical Praise | Sample Chapters | Bookstore | About the Author
Curriculum Vitae | Poetry | Poem of the Week | Song Lyrics | Blog | Contact